Unlock A115U metroPCS T-mobile todos los binarios de seguridad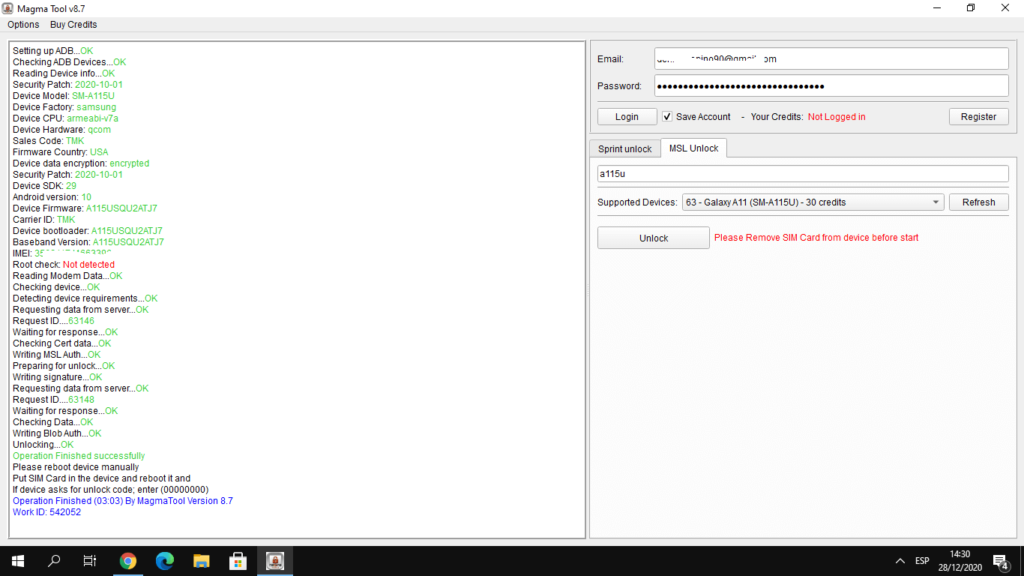 Te dejo la forma de hacer unlock al celular samsung galaxy A11 A115U de las compañías de MetroPCS y T-mobile con la herramienta de magma tool.
Pasos para liberar con bit 2 binary 2
Necesitamos tener el modelo ya antes mencionado
Descargar el ultimo update del programa desde la web oficial de magma
Necesitamos de lo que son 30 créditos los podes comprar en nuestra tienda de forma instantánea.
Activar depuración usb.
Escoger modelo exacto en el software.
Damos en unlock
Esperar a que finalice el procedimiento.
Log del proceso de desbloqueo binario 2 U2
Setting up ADB...OK
Checking ADB Devices...OK
Reading Device info...OK
Security Patch: 2020-10-01
Device Model: SM-A115U
Device Factory: samsung
Device CPU: armeabi-v7a
Device Hardware: qcom
Sales Code: TMK
Firmware Country: USA
Device data encryption: encrypted
Security Patch: 2020-10-01
Device SDK: 29
Android version: 10
Device Firmware: A115USQU2ATJ7
Carrier ID: TMK
Device bootloader: A115USQU2ATJ7
Baseband Version: A115USQU2ATJ7
IMEI: 356211xxxxxxxxxx
Root check: Not detected
Reading Modem Data...OK
Checking device...OK
Detecting device requirements...OK
Requesting data from server...OK
Request ID....63146
Waiting for response...OK
Checking Cert data...OK
Writing MSL Auth...OK
Preparing for unlock...OK
Writing signature...OK
Requesting data from server...OK
Request ID....63148
Waiting for response...OK
Checking Data...OK
Writing Blob Auth...OK
Unlocking...OK
Operation Finished successfully
Please reboot device manually
Put SIM Card in the device and reboot it and
If device asks for unlock code; enter (00000000)
Operation Finished (03:03) By MagmaTool Version 8.7
Work ID: 542052
Este proceso fue probado en versión de parche de seguridad de octubre 2020.